A freestanding, life-size sculpture made entirely of copper and secured into a custom redwood planter.
This cleverly designed tree has a hollow trunk for invisible easy insertion of wiring and water lines. Decorative white lights are strung throughout the branches for soft ambient lighting. Water lines are attached to a multiple misting system which will cool down the air and people in the surrounding area. Both secured in place by the easily pliable leaves with stems.
Each individual leaf is hand cut and separately secured into place one at a time. All copper leaves are finished in a hand painted custom green tinted patina with reddish brown trunk and limbs which will continue to evolve and change with time.
The planter sides are made of tongue and groove clear heart redwood for unrivaled beauty. The corners and feet are angled to add dramatic detail. Sanded smooth and sealed in a natural redwood finish. The base of the tree is secured into mortar for maximum stability and then covered with decorative moss.
Ideal for interior or exterior location that needs soft light and/or cooling.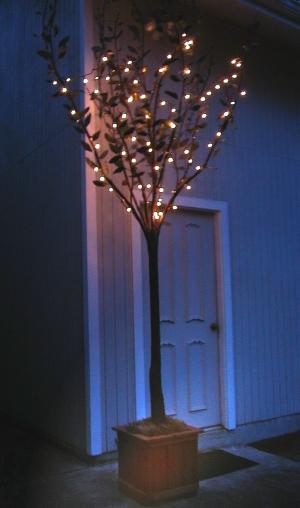 13' tall x 4' diameter - 15" planter