Brighten up your evening with tranquil colors aglow. These one of a kind hand hammered lanterns of copper and stanined glass are accented with distinctive cattails and foliage of multiple colors and designs all made of solid copper.
The heat treatment process creates vast color variations which will continue to evolve and change with time. The only material that continues to paint itself.
All tips are braised for safety and all foliage is easily bent to meet placement size requirements. Exterior lanterns lift up on the stem for easy bulb replacement and are low voltage for both safety and optimum energy efficiency. Mortar filled pot will stay upright through strong winds, shaking and bumps.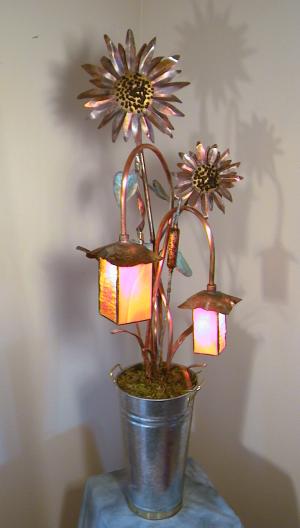 Many floral, color, container and size options available.